The first time I joined a readathon was last April. Dewey's has grown considerably this last few years and I wasn't indifferent to the hype surrounding it so when time came to choose I didn't hesitate to join the original 24h reading marathon.
Preparations started a week before: I compiled a list of 12 books I wanted to check off my list, I bought snacks, informed everyone I was unavailable throughout the weekend, made sure my bed had enough pillows and - since I was blogless then - I made Instagram my home base while occasionally checking in on Goodreads. Nevertheless, I had so much fun that I've been counting down the days until October 17 ever since! And here we are at last, only a few hours away...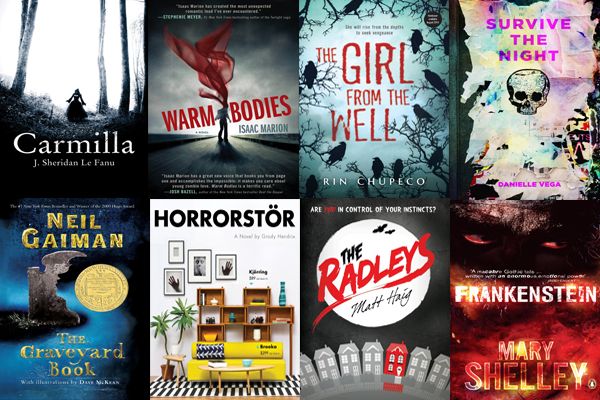 My TBR pile for the October readathon was very easy to pick. I went with a Halloween-ish theme and a total of 8 books. I'm not delusional, I know I won't be able to finish them all but I'll consider this readathon a success if I end up reading at least 2. For those interested, I'll be reading on my Kobo for commodity purposes.
Carmilla will be my first read. I believe it is the shortest one and, from my previous experience, I find that finishing your first book quickly gives you an inviting feeling of accomplishment that will boost your confidence considerably!
Snacks weren't my top priority this time around. I didn't even go shopping! I'll just eat what is around and I'm sure I won't miss April's snack extravaganza.

(or I'll just sneak out for an hour or so to go get something unhealthy if things get out of hand)
I'm currently trying to fly through The Martian. Really want to finish it before the readathon starts. I'm a finish-a-book-first-then-start-another kind of reader and it will kill me if I have to set it aside until Monday!
What about you guys? Let me know what you are planning to read this weekend. I would also like to know if snacking is or is not a big deal to you.